Ongoing Projects
Co-Creator/Moderator
Girl Group listserv
The Girl Group was created as a forum to talk about the challenges of writing, editing and general career advancement as a woman working in the arts media. It hopes to offer thoughtful advice and support for the furthering of women who already are or would like to become professional music writers, and to as serve as a space to critique current writing and music trends.

Counselor and Bass instructor, 2010
Rock Camp pro holky, Tabor (CZ)
I was happy to help with the inaugeral Rock Camp for Girls in Tabor, CZ as run by the alternative culture organization/space CESTA and Debbie Gordon and in association with the Rock Camp for Girls Alliance. In 2011 the camp is likely to include both Tabor and Prague locations.
Counselor 2007
Workshop co-teacher with Dr. Daphne Brooks, Women Who Rock! 2007, 2008, 2009, 2010
Bass instructor 2008, 2009, 2010
Advisory board member 2008, 2009, 2010
Willie Mae Rock Camp For Girls (Brooklyn, NY)
Founded in 2004, Willie Mae Rock Camp for Girls is a non-profit summer day camp serving girls aged 8-18 in New York City. The program offers girls the chance to learn how to play musical instruments, write songs, perform, learn about different types of music, and generally "rock out" in a supportive environment that fosters self-confidence, self-esteem, creativity, tolerance, and collaboration.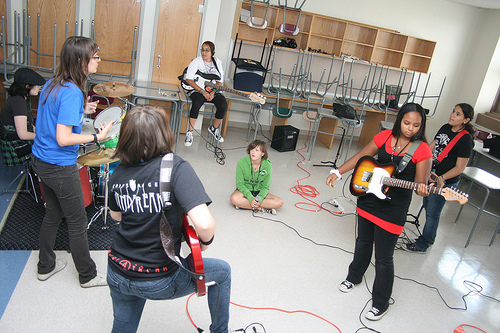 PAST PROJECTS
Volunteer, East River Music Project (ERMP)
The East River Music Project is a group of people dedicated to putting on free summer concerts of local music at the East River Amphitheater. 
Volunteer, Tamizdat CZ
Tamizdat is a nonprofit organization that is committed to fostering the free exchange of information and ideas between artists, audiences, and industry. Tamizdat works to build international communities by bridging the cultural and economic gaps that separate American and Western Europe from Central and Eastern Europe. To do this, Tamizdat has created an interlocking program of projects aimed at providing the foundations and the framework for cultural cross-pollination between artists, music industry personnel, and most importantly, between audiences everywhere.
Curator/Photographer: Neon: The Light of the Wildwoods, 2007
The George F. Boyer Museum Wildwood, NJ
From July 2007-October 2007 The George F. Boyer Museum in Wildwood, NJ had an exhibit I curated that contained original photography and text about the post-World War II history of neon and neon sign-making in the Wildwoods.