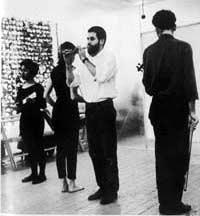 Wish that I were in LA for this Allan Kaprow exhibit, written about well in the LA Weekly last week by Doug Harvey.
John Cage's famed class on music composition in 1958 were the cross-over point for so much of what made the 60s great in media art, and Kaprow was very much there and soaking in Cage's thoughts. Indeterminancy must have been such a blessing in this heavy moment -a way for creators to escape the weight of intent - a clever reroute of association and materials. The imperative of action is mixed with the philosophy of performance – "real life" and "real contexts" together at a fulcrum.
To play devil's advocate I wonder re: this statement:
Which is the crux of the problem: As I recently insisted with regard to the Getty's "California Video" show, the museological interment of insurrectionary creativity is a well-intentioned cul-de-sac at best, blah blah blah, insurgent corpses and gloating emperors, etc. ... I feel sort of like Charlie Brown running toward Lucy's football each time I approach another such enshrinement of the dematerialized object or canonization of the trickster, thinking maybe this time someone will have found a way to circumvent the political declawing and cognitive dissonance that seem unavoidable when a voice of dissent is lauded and absorbed by the very system it was trying to destabilize and render obsolete.
Are we talking about the end of tradition or the reinvigoration of tradition? If the avant-garde is art for artist's sake, then are not these retrospectives somehow an admission that the geist of the works has been fully materialized? Is that not the reason that the exhibit included tributes by the young? There is no way to hold on to the avant garde aspect of a work, it is historically-specific, and self-conciousness of it's impact is its death...I think.
Which is why I am looking forward with dread to the Teenage Jesus and the Jerks show celebrating T. Moore and B. Coley's No Wave book. The no wave wiki shows where it went - the tributaries of each shattered sound now permiate the noise rock landscape worldwide. The destiny of institutional critique is institutionalization in the next generation. Kill your idols so that you shall become them.
John Cage is dead. Long live John Cage.